This one deck design with handle gives a sleek appearance while boasting high resistance to heat and thermal shock. The automatic exhaust valve allows immediate heating without defrosting or opening the lid, to prevent the loss of water and nutrients from the food. The exceptional silicone coating technology ensures the fragments will not splash in case the bowl smashes accidentally. Suitable for microwave, oven, steamer and dishwasher.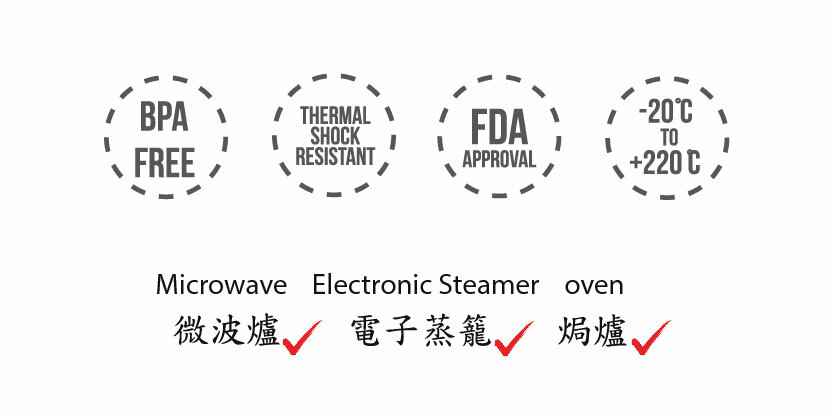 No. of Components:
Silicone Lid x 1, Silicone Coated Glass Bowl x 1
Product Specification:
Dimension per container (Assembled): Approx 91.00(H) x 127.00 (OD) x 168.80 (W)mm
Weight per container (Assembled) Approx. 292g
Volume per container (Assembled) : Approx.750ml
*The mentioned volume, weight and product size is just for reference, all measured data exists dimensional tolerances.
Borosilicate Glass
• Food safety material
• Thin and Light weight
• More resistant to thermal shock
• Stability in temperature difference -20oC~ +220oC
Patented Silicone Coating
• Anti-slip function
• Increase glass strength
• Enhance impact resistant
• Fragments will not be splashed out when broken
Silicone Lid with Valve
• Consist an automatic vent value. Heat with the lid covered to avoid food moisture loss.
• Leakproof
Scope of Application
•Safe to use in Steamer, Microwave , and Oven immedately from freezer
Product Testing
•Pass FDA 21 CFR 175.300
•Pass European Regulation No. 1935/2004 - Volatile Compounds Content
•Pass Europe Resolution AP (2004) 5 - Overall migration
•Pass German Food (LFGB), Sensorial examination odour and taste test
•Pass Total Content of Bisphenol A
Warning
• No direct heat on fire, No hard / sharp objects
• Please read the user guide in the packing before use
• Please avoid the valve on the silicone lid sealed with lard and / or other high-concentration thick oil products, in order to prevent the silicone lid from rushing out of the container due to poor ventilation while heating
* Color of the product image will be slightly different due to differences in shooting and screen settings, please refer to the color of the actual product shipped.