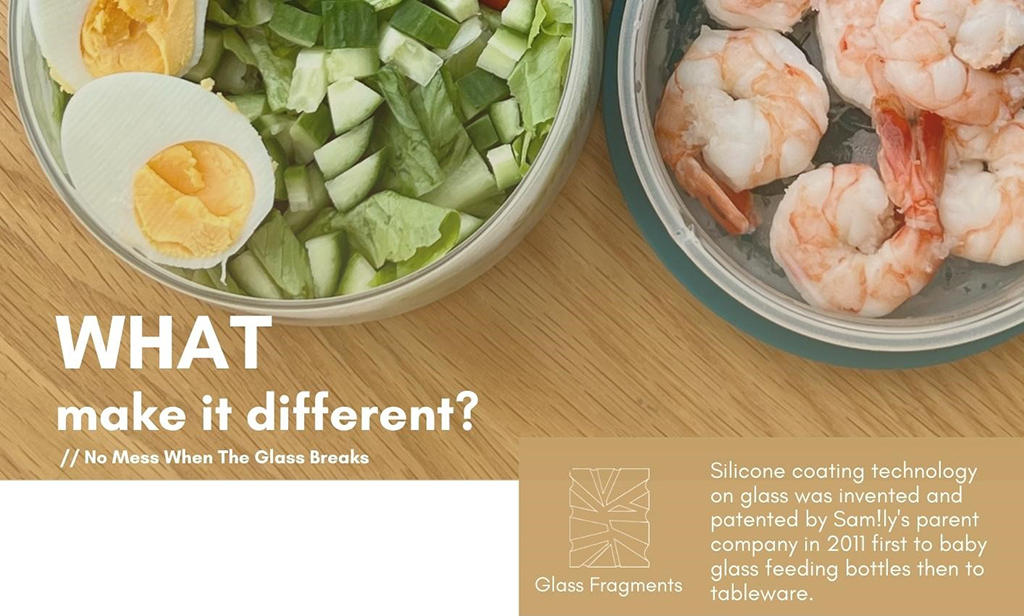 Glass is a sustainable, reusable, recyclable, durable material and also easy to clean. With its food-grade and Bisphenol A (BPA)-free properties, can be used to carry and store food. Food and beverage containers include water bottles and bento boxes. Unless broken, glassware last 3.5 times longer than plastic and can be recycled when discarded, reducing the negative impact of plastic on the environment.
However, lids in glass aren't leak-free, making them unideal for carrying around. Therefore, most of the lids or caps of these transportable glassware use different types of materials, such as snap-locking plastic lids with a silicone seal or bamboo lids with silicone seal for leak proof and somehow air tight. It's always important to remove the silicone seal and clean it thoroughly after each use to prevent the growth of harmful germs. But, sometimes it can be difficult to remove the seal from the lid and just as difficult to put it back on. Now, a silicone lid makes it all easy.
Sam!ly designed a glass food container with a one piece leakproof silicone lid. All you have to do is to close the lid firmly. This one-piece seamless silicone lid does not require assembly or disassembly, and requires no skills or tools to clean, and can also be thoroughly deodorized and sterilized at high temperature periodically.
As for the glass container, it is made of borosilicate glass, which has good thermal shock resistance and is shatterproof thanks to the silicon coating technology on the surface of the glassware. Since it is shatter-resistant which means it can still be broken, the silicone coating technology is to ensure the fragments will not splash in case the glassware smashes accidentally.
Two sizes and a range of colors available that you can choose the one you like the most.